Farewell to Snowy Owls 2021
Upon my last visit to snowy owl country (March 23rd) I didn't see a single snowy owl.  Two days earlier I had spent time with three. With warmer temperatures and, with farmers fertilizing their fields, I am guessing the owls have decided it was time to move on. Some went to nearby areas, perhaps,  but most will have begun their migration back to their arctic breeding grounds.
Once again it was a fantastic experience spending hundreds of hours with individual owls and sharing anecdotes and images with local farmers and their families, fellow photographers, readers of my blog and with biologists, who study these beautiful creatures full time.
In a tribute to my favourite species here are some of my favourite images from this past winter. Thanks to all who have commented and appreciated them:
A Male snowy owl returning to a fencepost after dropping down for a spell on the ground. He remained on the post for another hour before chasing another owl out of his territory.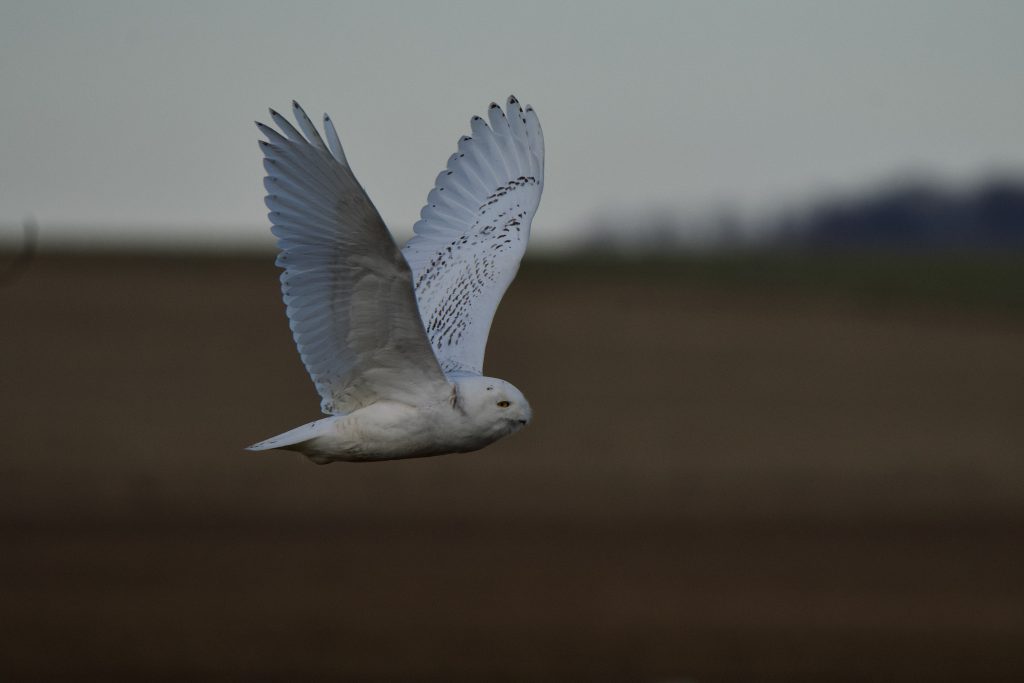 A young female owl that regularly hunted in the same two fields. She has just swooped down, caught a mouse and, after swallowing it whole, flew back to her favourite tree
This is a female owl that I seemed to have a connection with. On five occasions over several weeks she left her  perch to hunt meadow voles sometimes coming too close to me for my camera to capture her. Her unique 'eyebrows' made her easy to differentiate from another female that sometimes competed for the same field
With wind gusts of 85km/hr and a drizzle coming straight at me I caught my 'owl with the eyebrows' as she hunted one evening. Again she was successful capturing a meadow vole.

On the penultimate day with the owls I dropped in to visit a Mennonite family, whose field I had spotted this female owl roosting all afternoon. We chatted and I pointed to the owl. Then I did my usual circuit. I came back to wait for this one to fly past me at sundown. I knew she was going to a utility pole behind me and waited for an hour, sitting in the neighbour's field. Fortunately there was still some light.
I will be including some snowy owl photos in my upcoming 'Waterloo Region Wildlife Photography' presentation for Idea Exchange, Tuesday April 13th (7:00 p.m. Eastern time)
To register for this Zoom event: https://ideaexchange.libnet.info/event/4952434
I do hope you can join us.