The bald eagles I've been following since February have three growing eaglets in their nest. Occasionally, the young can be seen testing their wings and, yesterday, the first born (presumably) was actually levitating. I can't wait to see them fledge in coming weeks.
With three extra mouths to feed the adults are busy. One day last week the adult male had been gone for around two hours and his mate was getting antsy. I could hear the youngsters enquiring about the menu.  She called out for her mate while surveying the horizon in every direction for signs of him. Suddenly, she took off upriver at warp speed obviously seeing something that attracted her attention. 
I was astonished to see the male flying towards me carrying a mallard duck in his talons. She was close behind screaming at him. I don't know if those were screams of encouragement or more "what took you so long?"
The sheer weight of the duck was tiring him and he was forced to make two pit stops. I have seen eagles panting in extreme heat and humidity but never from the effort of bringing home the bacon, so to speak.
Here he is resting, with his catch, during his ten minute 'time out.'
When he finally summoned the energy to resume his flight he crossed the river in front of me and headed towards some higher trees where he rested for another ten minutes. I am happy to report he did manage to get back to the nest eventually.
A few days later he seemed to be in his mate's bad books again. As he delivered a fish to the nest she appeared to scold him for another lengthy absence.
Although this eagle nest is right above the Nith River I didn't believe they fished in close proximity to the nest until a few days ago when I ventured out in the rain on a whim. Both eagles were in trees near the nest and I was focused on the male. The rain turned to drizzle and the lighting improved significantly. My photographer's luck again, I mused. 
With shocking speed the female dived from high above obviously hunting a fish in the river. The male joined her. Running with the burden of waterproof pants and jacket and carrying my camera gear I caught up. For the next five minutes I was treated to a 'tag team' of fishing by the two eagles. It was remarkably well choreographed.
While the male dived the female either perched in a tree or hovered waiting for her turn. Then they reversed. Their teamwork paid off and one of them – don't ask me which one – took a fish back to the nest.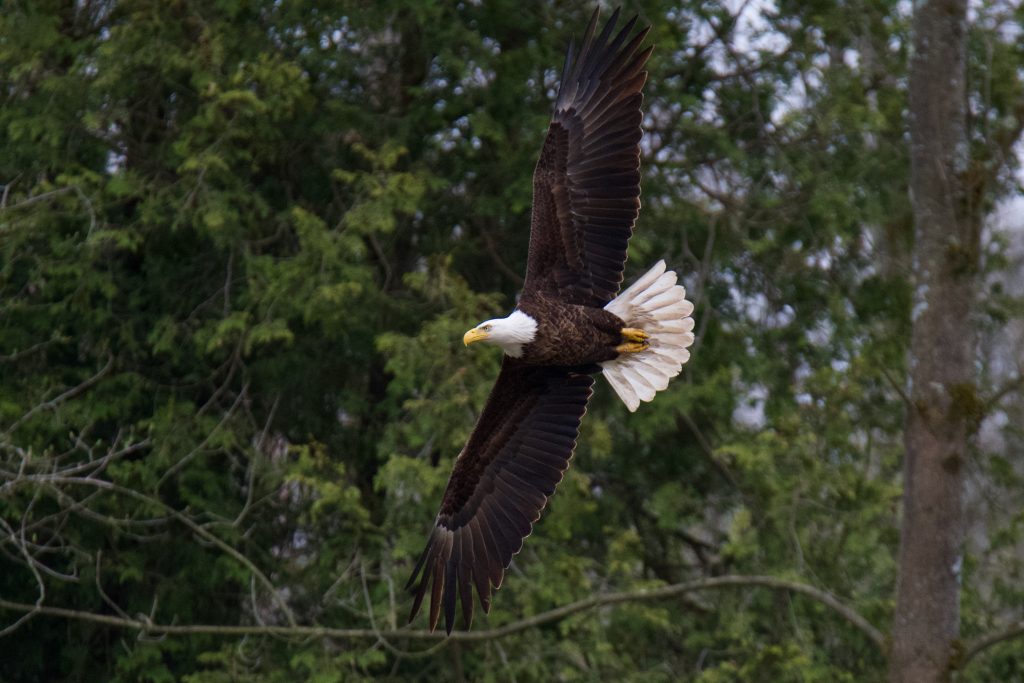 I hope everyone is staying healthy and getting outdoors. It's what keeps us sane!