These past few weeks I have been visiting the Nith River eagle nest, fifteen minutes from my home,  and have watched as this adult pair carried out maintenance work, mated successfully (during the third week of March) and now have at least two hatched eaglets. 
I say 'at least' two because I have only seen two heads pop up and, because the eaglets hatch at different times, there could very well be a third that is still out of sight. A year ago they had three. 
One of the local residents told me that this pair have nested here for eight years and have had 20 eaglets in that time. 
When there are young in the nest the adults are kept busy hunting and fishing to feed them. I suspect there is not an abundance of fish nearby  because the male flies off and is sometimes gone for a couple of hours. As the young grow – and become even more demanding of food – the pressure increases to bring food back much more regularly. 
On Sunday I took up position near the nest waiting for the male to return. Often he brings in the fish then feeds the young ones. The female will 'grab a quick bite' then stretches her wings flying about the area often before landing in a nearby tree to preen and to clean her beak of the fish she has just shared.
As I have often written …….time spent in nature is time well spent. On Sunday I watched a beaver swim down the river, emerge briefly to chew on a dead tree, before returning to the water's edge.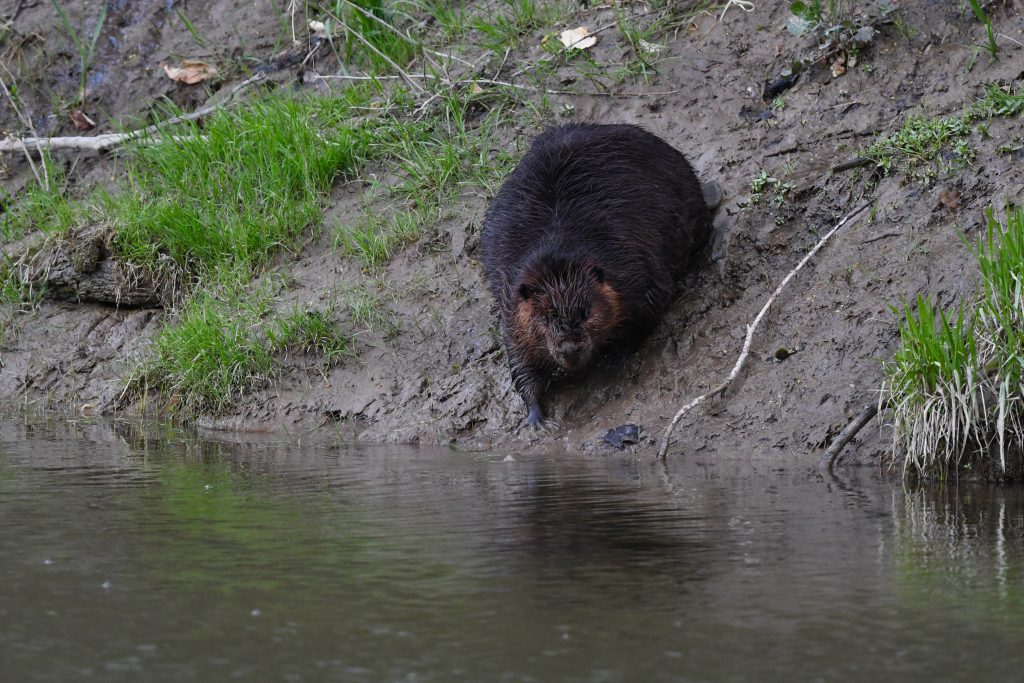 A short time later four deer ran single file up the trail beneath the eagle nest. They were gone in a flash but I managed to capture a few images.
Next was a surprise visit from a juvenile bald eagle – quite possibly one that fledged from this nest a year ago – which circled the area for several minutes before heading down river.
As if this wasn't enough reward for spending time on the river I watched the adult male arrive home with a fish, his second delivery in the three hours that I spent there.
Before I left the area I was lucky to see the female do another few laps looking down at me as she passed overhead. 
We are fortunate to share this planet with some incredible species of wildlife. Just a walk along a river can prove rewarding if you to are not in a hurry.  I hope you can find time and a place to enjoy and observe nature.